[Resolved] Column for Country Flags vsp stats
There's no column for the country flags on my vsp stats site.
I see that this server has the columns: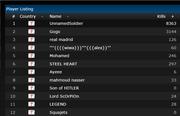 Ideas?
Re: Column for Country Flags
FYI I ran into this only yesterday. My older VSP stats shows (useless) flags, so I dove into this.
If you run a recent version (after spring 2021) you can see the maintainer has disabled this feature.This was in March 2021:
https://github.com/evilru/quake3-vsp-stats/commit/0fb3b630f333994f88d79db59891839bdf9f89e5
The commit message was:
Disable country flags
quake3 log files don't contain ip addresses

This makes sense indeed. I was always looking at question marked flags anyway...